In July 1994, Construction and Planning Agency announced regulations on the installation of special-purpose sewers in newly developed communities.  It is clearly stipulated in the regulations that a residential community that can accommodate over 500 people is required to equip itself with a sewage treatment plant.
Since founded in 1995, L&A has completed some 600 certifications for sewer system design (construction license, building permit, alteration of design, usage license, function test, discharge permit, etc.) with the well-known clients including Cathay Life Insurance Inc., Cathay Construction Inc., Hung Kuo Construction Co., Ltd., Union Construction (Group) Ltd., Sun Yuan Construction Co., Ltd., Chie Ho Engineering & Development Co., Ltd., Ever Fortune Construction Co., Ltd., Lincoln Construction, Kindom Construction Corp., Tuntex Group, etc.

In 2004, L&A was awarded a certificate as the only outstanding technology consulting firm in the Evaluation of Professional Proprietor for Design of Special-Purpose Sewer System organized by Taiwan Sewerage Association.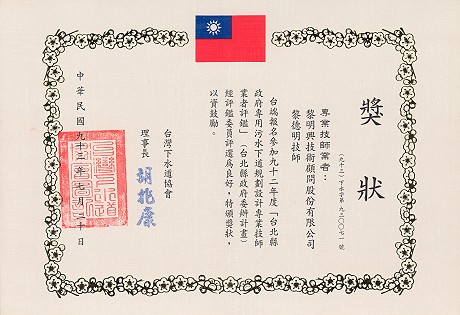 As for the overseas markets, L&A established its office in Ho Chi Minh, Vietnam and participated in the project on design-build construction for wastewater treatment in Linh Trung Industrial Area, which served as the first international standard for wastewater treatment in Vietnam.  In addition, L&A was in charge of the design-build construction of wastewater treatment and recycling for the washing and dyeing factory of Universal Hats & Caps Corp. located in Cambodia.
Besides, the central drinking water system installed at Dun-Hua Elementary School in Taipei was planned and designed by L&A to supply some 5,000 faculty and students with drinking water conforming to stipulated quality criteria stated by Environmental Protection Administration.